Channel Partner Co-Brand Hub
Impress customers and elevate your business by partnering with our creative team to co-brand your marketing materials.
Channel delivered differently
Discover the benefits of becoming a Swoop Channel Partner.
Industry-leading innovative technology
Pushing the boundaries of technologies and telco relationships.
National footprint at your fingertips
Connecting end-user sites to POPs across Australia, with one-stop portal access to provision, billings and assurances.
Local experts
We've got 25+ years' telco experience. When you need us, speak directly to Australian-based service team.
Access to our exclusive network
With 490 towers and counting, our Australian carrier radio network reduces deployment time and operation costs.
Partner knows best
Go-to-market strategies and products are designed for stronger channel-led outcomes. Aligning to support partners however they choose to transact.
Explore co-brand opportunities.
Video is king.
Captivate your audience with video content for your in-store display, advertising, or social media.
Turn heads with print advertising.
Collaborate with our design team to craft printed materials that effectively convey enticing promotions, compelling offers, and your business goals to your customer base.
Direct your customers to a co-branded web page.
Drive engagement and close the deal – be remunerated for every referred sale, support your co-brand page with flyers, posters, and QR code call-to-actions.
Leverage your network through events.
Gain valuable insights into upcoming opportunities to sell to your customers, network with potential prospects, and receive support from your dedicated Channel Manager through active event participation. Don't forget to inquire about our exclusive show bags!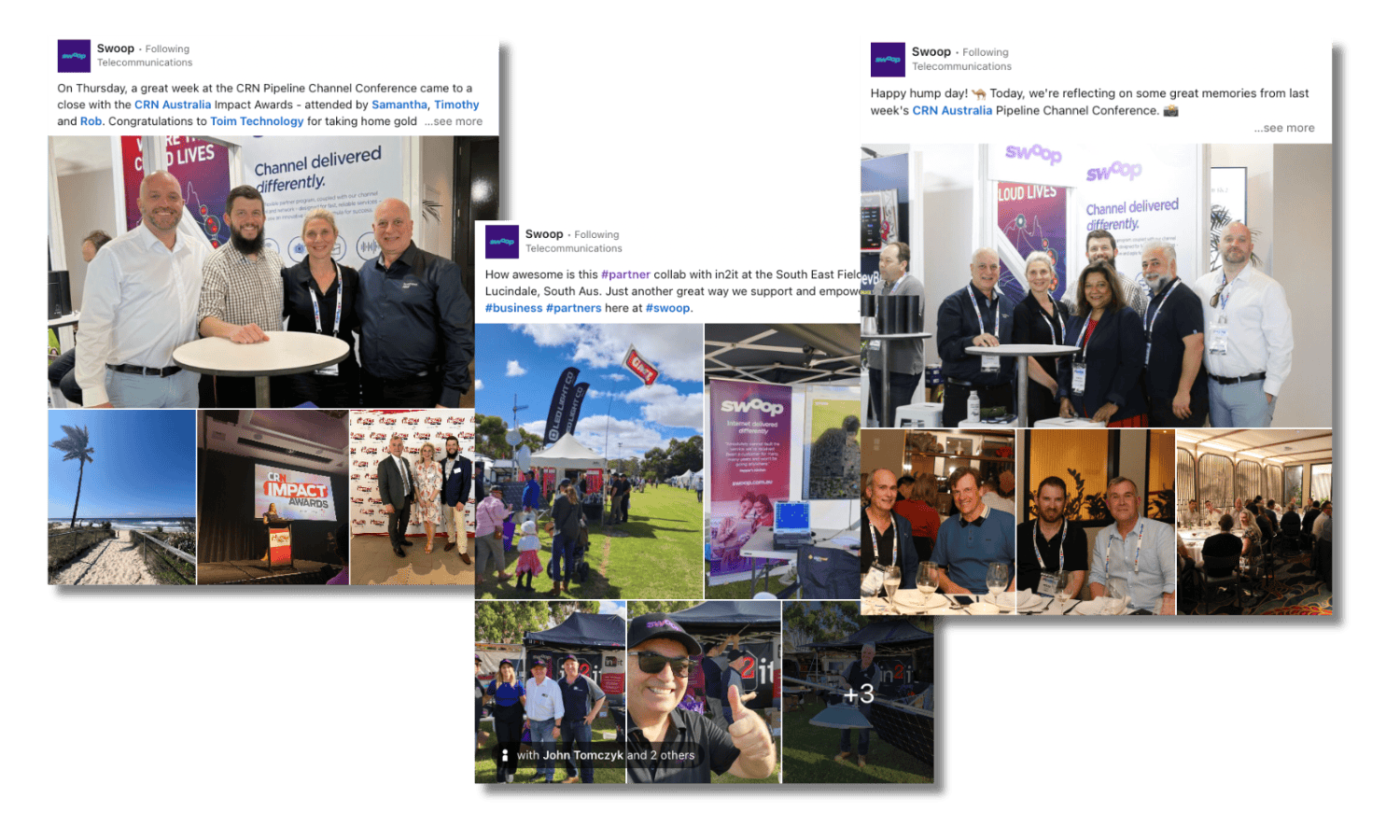 Be seen on social media.
Expand your online presence and initiate meaningful conversations. Swoop Channel Partners can collaborate with our social media experts to create compelling content that attracts customers to your co-branded page or website.
Speak with your Channel Manager about co-brand options or use the contact form below.